Monil Sundesha '08, G'09
Finding Education and Opportunity at SU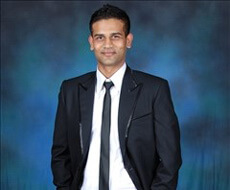 Monil Sundesha '05, G'08 arrived in Syracuse from Mumbai, India, 17 years ago, accompanied by his father. The two were in a cab on the way to campus when the cab driver offered him this piece of advice: "You need to buy good quality snow boots. Make sure you spend enough on them."
While it has been almost two decades, Sundesha remembers well the trepidation of being an international student. "It was a challenging and exciting environment," he remembers. "It can be intimidating to be on your own in a new country." In those first days, he was invited to the Slutzker Center for International Services, which was a "home away from home." There were social events, information sessions, and, perhaps most important, upperclassmen who could share their knowledge and experience. "Some of the guys I met there became lifelong friends," he says.
Sundesha was drawn to Syracuse because he was looking to study at an American university that could offer a strong business and technology education. After growing up in a city like Mumbai, he also wanted a beautiful campus in a smaller town. Early on at Syracuse, Sundesha heard a roommate talking enthusiastically about a class he was taking in the School of Information Studies (iSchool), and Sundesha took note. He decided to take an introductory course, loved the diverse coursework as well as the flexibility of the program, which allowed him to take a wide range of electives through different colleges. "It was exciting to be able to explore a variety of educational avenues," Sundesha says.
His experiences in the classroom were as important as those outside. "I found ways to develop leadership skills," he says. Sundesha was a founding member of the student advisory board for the Office of Multicultural Affairs, which supports students and provides a platform to discuss issues of concern. He also served as the public relations chair for the South Asian Students Association and was elected president of the iSchool student government. He worked in IT services throughout his time at the university as well.
But it wasn't all work and no play. Sundesha enjoyed time off on Marshall Street and cheering on the men's basketball team. Describing himself as a "huge fan," Sundesha is proud to say he was at Syracuse when the Orange won their first NCAA Championship in 2003.
After completing his master's degree, Sundesha opted for a more entrepreneurial path. He helped found iConsult, a program that simulates a consulting firm and connects iSchool students with clients who are looking to better integrate digital technology in their businesses. Eventually, he took on a business development role at an IT and digital media firm.
After a decade in the US, he moved back to Mumbai where the business environment was fast changing. He was initially in private equity firm for several years. In 2012, joined his family's business The Fulchand Group as managing director. The group includes divisions in specialized knitwear manufacturing and export, real estate, as well as a family investment fund that supports venture and technology investments.
He regularly draws on both the leadership opportunities he had at Syracuse and his undergraduate and graduate studies. "My education gave me a framework to navigate a dynamic business world," Sundesha says. They taught me to think analytically to adapt to a fast-changing world."
Published: January 2019