Scott Kronick '85
Created Successful Career Overseas in Public Relations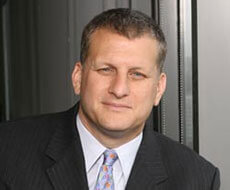 When discussing his career, Newhouse graduate Scott Kronick '85, is quick to point out people whom he has learned from and those who have helped him along the way. The list includes professor Jay Wright, whose class "Ethics in Journalism" Kronick remembers well. "I loved that class," Kronick says. "I still think about it. It couldn't be more relevant, particularly with fake news and real news—and what's going on today."
Kronick, of Beijing, is Asia chief executive of Ogilvy, Public Relations & Influence, the largest international public relations agency in China and throughout the Asia-Pacific region, representing such clients as Adidas, UPS, Ford, and American Express. Ogilvy was recently awarded the contract to handle global public relations for the 2022 Winter Olympics, to be held in Beijing.
Kronick came to Syracuse University from Flint, Michigan, where he had been a standout soccer player in high school. He was looking to play Division I soccer and also wanted a college with a great communications school. Syracuse provided the right combination. At Newhouse, he made lifelong friends and was inspired by both the high quality of teaching and the caliber of his fellow students.
After graduation, Kronick headed to New York City looking for work. He landed at a small public relations firm, Michael Klepper and Associates, spending two years building up his expertise and portfolio. His mentor, Thomas Horton, the former CEO of the American Management Association, strongly encouraged him to gain international experience. "I can't underestimate the importance of a good mentor in your career," Kronick says, and he kept Horton's advice in mind when he went to work for Ogilvy in New York. "I requested to work overseas. I had to wait about four years, but I persisted," Kronick says.
He was thrilled with a transfer to the Ogilvy Taiwan office in 1991. "I was interested in seeing the world," he remembers. "And Asia was one of the regions that was going to be growing dramatically."
While in Taiwan, Kronick met his wife, Lisa Wei. In 1995, he was chosen to lead Ogilvy's new offices in Beijing and Shanghai. A third office in Guangzhou opened a year later. He gives credit to his deputy director, Li Hong, for the company's early success. "Having a really good partner was key," he says. "And together we made some very smart hires." Ogilvy now employs approximately 3,000 professionals in China.
Kronick and his wife have a daughter, Jacquelin, a student at the University of Southern California, and a son, Samuel, who is a student at Northwestern University.
Kronick was recently able to connect with a group from his alma mater when Chancellor Kent Syverud traveled, along with additional SU faculty and staff, to China for "Syracuse Around the World." Kronick moderated a conversation among the Chancellor; Lorraine Branham, dean of the S.I. Newhouse School of Public Communications; and Jhanjiang "John" Liu, vice president of research at SU. The program was attended by alumni, current and prospective students, and parents. Kronick says he was impressed by the event, which underscored the University's growing commitment to students and education partners in China. He was pleased to hear the Chancellor speak some Chinese, as well. "There was a very good ambiance in the room," Kronick says.
Living in Asia has been an ongoing adventure for Kronick, who shares some of his experiences and challenges as an expat in his book, The Lighter Side of China. "I'm a very patriotic American," Kronick says. "And I love living in a vibrant, growing country."

Published: July 2018