Wendy Cen G'02
Credits Whitman School For Career Successes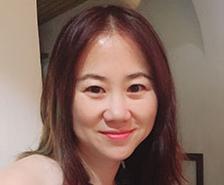 When Wendy Cen G'02 looks back on herself as a young professional working in Shanghai, she says she had a limited view of the world. "I only understood banking," she says, "and I only understood China."
Then she met Whitman Professor Peter Koveos, who was in Shanghai to talk about Syracuse University, and her life changed.  She was awarded a scholarship to pursue graduate studies at the Whitman School. "My two years there totally changed my view of the world and put me on a different career path," Cen says. "My view became more balanced, diversified, and international."
Cen is now the head of internal auditing at Ant Financial in Shanghai. The technology company's 7,000 employees operate Alipay, the largest mobile and online payment platform in the world. Cen says that in the China market today, carrying a wallet is obsolete. Paying the restaurant bill, the cab driver, the utility bill—all of it is done digitally. 
And with improved facial and eye recognition, even carrying any kind of device may at some point be unnecessary. As an auditor, Cen says she doesn't have to understand the coding, but she does need to know all aspects of the company and its products. 
Cen says her time at Whitman helped her understand the value of teamwork and the ability to collaborate with others from diverse backgrounds. She is especially grateful to students who were veterans, who had lived and served in other countries and brought a great deal of life experience to the classroom. 
She says she felt she came to Whitman knowing only "silent English." Her reading comprehension, writing, and grammar were all good, but she was not confident in speaking. Her fellow students, in particular, those who had lived in foreign countries themselves, were very helpful.  Motivated by gratitude, Cen is a donor to Syracuse University's Greater China Scholarship. "Without the generous scholarship I received, I wouldn't have been able to come to Syracuse for my M.B.A.," she says.  
And while she has spent her career writing audit reports, Cen's real love is writing fiction. Her novel Encounters, published in China, is a romance set in New York City and Shanghai. It has been made into a television series. The novel she is working on now is set in Syracuse.
Cen hopes to return to her alma mater this summer. She says she plans to bring her daughter, 11, and son, 8. "I want to show them the beautiful campus where I spent two very important years of my life."
Published: May 2018