Holly Schwartz '95
Helps Students Adjust to Life in Hong Kong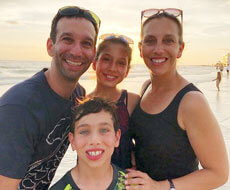 Holly Schwartz NEW/VPA '95 had a great experience during her semester abroad in London. But she always thought there was one thing lacking that would have made for an even richer experience. "I never walked into someone's home, someone's apartment… just to see how people live," she says.  
Schwartz, who has spent most of her post-college life living overseas, now fills that gap for Syracuse University students studying in Hong Kong. Each semester, she invites Syracuse Abroad students to her home in Hong Kong's coastal town of Stanley. She serves tea sandwiches and the traditional Chinese delicacy of egg tarts, and shares what it is like to live in Hong Kong and raise her family there.  She also invites other SU alumni in Hong Kong to share their experiences. Her young daughter and son look forward to the visits as well. "It's really nice exposure on both sides," she says.
Schwartz grew up in Yardley, Pa. The first generation of her family to attend college, Schwartz remembers well her initial visit to SU and her first glimpse of the majestic Hall of Languages. She knew she had found her school. She thrived in college, enjoyed her classes, sorority life, and especially the experience of being a resident advisor for three years. 
After college, Schwartz pursued a career in public relations, first in Philadelphia, then in Chicago, where she met her husband, who works in international real estate. The couple first lived and worked in London, where Schwartz helped reenergize an SU alumni group. She and her husband, Skip, who is now a managing director for the real estate investment firm Heitman, lived in Germany and Japan before moving to Hong Kong in 2014.  
Today, Schwartz is an orientation specialist for Santa Fe Relocation Services. She works with clients from all over the world who are either moving to Hong Kong or considering a move.  She may give a tour or help someone set up a bank account, look at schools, or hunt for an apartment. "People may be struggling or stressed out, or here without their partners," she says. "I try to be a calming force."  
Four years ago, Schwartz was returning to Hong Kong from a visit to the US when a sign at the airport—Syracuse Students—caught her eye.  She discovered the person holding the sign was welcoming Syracuse Abroad students. "I said, 'that's so cool, I have to find a way to meet them,'" Schwartz remembers. Her conversation in the airport sparked her ongoing involvement with her alma mater.
Schwartz says, "I think when people look back at their college experience what they remember most was the person who was kind, who gave them a gift of time. I'm happy to be a part of that." 
Published: September 2018