Maggie Jiaman Peng '21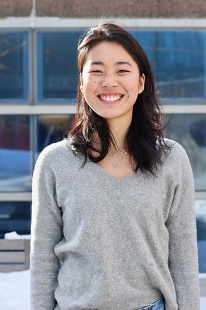 During her sophomore year, Maggie Peng '21 started writing for Globalists, a student-run magazine with the tagline "Where your story is celebrated." Writing student profiles provided the perfect outlet for Peng, an advertising major at the S.I. Newhouse School of Public Communications who is interested in people and curious about the world.
"I wanted to connect the dots about people's upbringing and identity and where they grew up and how that shaped them," she says. Her stories about Syracuse students from places including Germany, Greece and Liberia "try to make sense of people's experience and how they came to be. What is their passion? What is their personality? Their drive? I want to see people beyond what they look like or where they're from."
As editor-in-chief of Globalists, Peng is learning about leadership, organizational and publishing skills. She's also learning about others and herself. "Making time to really understand people and their nuances and differences takes a lot of time but helps me focus on doing what really matters in an increasingly complex world," she says. "This work has pushed me to be a better person and work on something I care about. It's super creative and rewarding and challenging."
Peng, a recipient of the Syracuse University Greater China Alumni Endowed Scholarship Fund, was born in Sichuan, China, grew up in Shanghai and attended high school in the state of Connecticut in the United States.  "Originally, I was considering studying graphic design because I liked being creative and self-expression," she says. "When I got to Syracuse and started exploring a variety of classes, advertising seemed to be at the intersection of my interests: problem solving and understanding people. In a way, it's curiosity-driven research."
She's "dipped her toe into a lot of things" at Syracuse: singing, playing the violin, business courses. "I like trying different things and seeing what I'm good at and what I'm not," Peng says. "When you have a steep learning curve you come out with more skill, greater empathy or understanding of how to help people learn and stretch."
Before working on Globalists, she wrote for the student newspaper, The Daily Orange. Although researching news and interviewing people tested her confidence, she soon found "talking to adults and interviewing them about a city I've never been in very cool."
Peng is still weighing her post-graduation options; her list of possibilities includes working at an advertising agency in New York City. "I like the diversity of people and meeting people and being surprised," she says.