Runyi Li '22
First recipient of Syracuse University Greater China Alumni Endowed Scholarship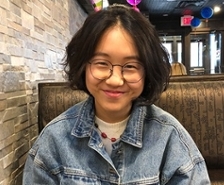 Go Orange!  Runyi Li, an 18-year-old freshman from Beijing, China, appreciated orange long before she came to Syracuse University. She attended Peking University high school in Beijing, whose school color was orange. When she saw Syracuse University's iconic color, she knew it was the right place for her.
The amazing reputation of the Newhouse School of Public Communications' public relations program also prompted Li to choose Syracuse University. In just the first few months, Li has fully immersed herself in the Syracuse experience. "Although courses in Newhouse are pretty hard, I have learned a lot through participating in American class discussion and reading interesting material. This semester, I enrolled in an advertising class, which is fascinating. We have a chance to create our own brand and advocate for it!"
During her short time on campus, Li has discovered how Syracuse University personally invests in the success of each student. She has built wonderful relationships with many of her professors. "As a non-native speaker, Professor Sandra Smeltzer, who taught my Com 101 class, has been a great help to me," Li says. "I often visit her at office hours even though I'm not in her class this semester."
Student groups and activities have given Li an opportunity to apply what she learns in the classroom. She gets to explore a professional student-run university TV station at Citrus TV. She also helped create a documentary and promotional video for Syracuse University's Virtual Welcome Academy.
Although she's busy with academics, activities and her job at one of the campus dining halls, Li still finds time for a little fun. She enjoys playing badminton and skating with friends. As for the long winters in "Snow City," Li says, "Many people complain about the weather, but I view the snow as a unique life experience." She has joined a university-sponsored 6-week ski and snowboarding program.
Li is incredibly grateful for the generosity of alumni and parents who helped establish the Syracuse University Greater China Alumni Endowed Scholarship, a first-of-its kind initiative that supports undergraduate students from China, Hong Kong, Taiwan and Macau.
"It is a great honor to be the first recipient of this newly established scholarship," Li says. "I read the notification email several times and couldn't believe it! I really put forth my best effort in my first semester. In a major that is so reliant on English, this was really difficult, but my efforts paid off and there is no greater encouragement than receiving this scholarship. This motivates me to continue studying even harder and to keep stepping out of my comfort zone."
With the financial support she is receiving from this scholarship, Li is applying to a Syracuse Abroad program in London this summer. "I hope I can discover more about my future industry and the world."
Want to help more students like Runyi Li? You can contribute to either the Greater China Scholarship Fund or Syracuse University's general scholarship fund.
Published: March 2019