Xiaoman (Ava) Hu '23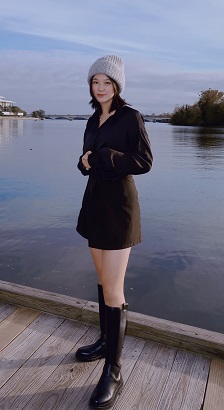 Xiaoman (Ava) Hu '23 has always loved to write, a talent she has brought from her native Beijing to Syracuse where she uses her love of words to build bridges across cultures. Ava is a Broadcast Digital Journalism major at the Newhouse School of Communications, a discipline she puts into practice on a weekly basis at Syracuse's WeMedia Lab.
The WeMedia Lab functions as a Mandarin-language news agency at Syracuse, translating or originating content to feed through the popular WeChat app to 10,000 followers consisting of Syracuse students, parents, and alumni from China. Ava serves as the Chief Editor, overseeing daily content and the 10-15 original articles produced each month.
"Information is very important for assimilating students to the campus experience," reflects Ava. Beyond the obvious task of getting students from China to fully comprehend the American campus, she believes that the larger constituency really learns a lot about the United States and its political and cultural norms as well. "I was surprised when speaking with some Chinese parents that they knew the name of the mayor of the City of Syracuse and all about the recent election here. This was all from WeMedia Lab coverage."
In many respects, Ava's choice of major and her work with the WeMedia Lab stems from her introduction to Syracuse. Like millions of other college-bound students in China, she was not familiar with Syracuse and its programs and found Newhouse mentioned because of its reputation in the rankings. Despite this research, Ava readily admits that "I had no idea what college in the U.S. was going to be like." After coming to campus, she turned her first-impression experiences into blog posts, catching the attention of the WeMedia Lab staff.
Beyond her writing, Ava also participates in a mentoring program which matches current international students  with incoming first-year peers to help them adapt to the U.S. university system. "I wanted to share with others how I opened myself to the campus experience," Ava explains. "This mentoring program gave me an opportunity to employ what I've learned at Syracuse – to do well in your classes but also explore activities and programs."
After her studies at Syracuse, Ava is open to pursuing her career in either the United States or China. She has had internship experience with a China-based media company and is seeking similar experience in the U.S. for the summer between her junior and senior year. As the world of media is in constant flux, Ava is grateful to be gaining experience on the cutting edge of intercultural digital content while studying at Syracuse.