Kaicheng Zhuang '23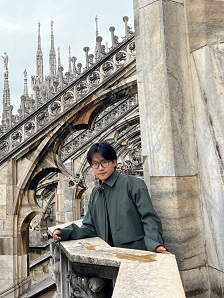 Kaicheng Zhuang is a fourth-year Architecture student at Syracuse who is looking forward to entering his fifth and final year. He hails from Shanghai where he took the I.B. coursework in English and always had his sights set on attending a U.S-based architecture program.
"While I was in high school, faculty from Syracuse's School of Architecture visited Shanghai to put on a workshop, offer portfolio evaluations, and give an overview of the program," Kaicheng recalls as his first introduction to the university. Although he looked at options all over the United States, Kaicheng really liked that Syracuse's campus was in a small city and relatively self-contained.
Although Kaicheng prepared himself for an education in the U.S., two things really stuck out after this arrival. The first was how broadly disciplines are introduced to undergraduates – he still cannot believe how deeply architecture is explored in a single program at Syracuse. Furthermore, Kaicheng was surprised how well-developed U.S. students are at communication and presentations. "I keep working on being communicative with my classmates and professors even when it does not come easy," notes Kaicheng who believes this skill will help him thrive in the workplace after graduation.
Among his very American experiences, Kaicheng relates how much fun he had working in the Dome in food service during football and basketball games. "I really enjoy the American sports atmosphere," says Kaicheng. He and some of his friends have taken up basketball on a weekly basis as an outlet after studying and exams.
After he completes his studies at Syracuse, Kaicheng would like to get a few years of work experience at an American firm before taking his talents back to China. He is especially focused on urban housing design and the social implications of good planning for future generations. He may try to pursue a graduate degree in architecture along the way.
Although he is not quite at the end of his Syracuse journey, Kaicheng is already reflective as to what an education in the U.S. has brought him. "Studying in the U.S. is a very open experience – there is a chance to do all sorts of things and give yourself the confidence that there are no limits to what can be pursued."