Jeremy Min-Cheng Wu '21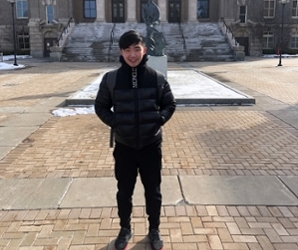 While researching the economics department at the Maxwell School as a high-school student, Jeremy Wu '21 found a second program that clinched his decision to attend Syracuse: mindfulness and contemplative studies at the David B. Falk College of Sport and Human Dynamics. "It got me more interested in Syracuse," he says.
Falk College courses create the balance Jeremy needs after long study sessions. "Economics is theoretical and takes a lot of brain power," he says. "Mindfulness teaches me to self-regulate my brain, reduce stress and work at a higher level." Falk College courses have taught him about how the brain works. "Some classes, we will spend time sharing research findings and trying out meditation," he says. "It's really nice when you can research about something and then do it. Now, I do meditation for 10 minutes every day. I can even meditate while I play guitar. It makes my life less stressful."
Wu, who is from Taiwan, is a recipient of the Greater China Alumni Endowed Scholarship this year. As he contemplates his career path post-graduation, he is considering pursuing a master's degree in entrepreneurship or business and exploring internship opportunities through Syracuse's Blackstone LaunchPad.
Wu enjoys the diverse student body at Syracuse University. "There are a lot of people from around the world; everyone can find their own groups and meet people outside their own comfort-zone too," he says. He's become close with an economics major from Africa. "We are really great friends and enjoy sharing our cultures with one another," he says.
Whether his career path allows him to stay in America or live in Asia, Wu is thankful for the opportunity for his culturally and practically rich experience at Syracuse University. One thing is for certain – no matter where life takes him, he will always want the flexibility to visit his family in Taiwan regularly.